Update:August 23, 2023
Creative Knock 2022: CG Creation from Scratch - Event Report
Since being appointed as a UNESCO Creative City of Media Arts, Sapporo City has been making strong efforts to nurture young creative talent. The "Creative Knock" programme held in the summer of 2022 is just one example of this.
Creative Knock is a set of CG creation workshops welcome to even complete beginners held three times over the span of July and August, taking all measures possible to prevent the spread of coronavirus.
To commemorate the 100th anniversary of Sapporo City's administration taking place this year, the production theme selected was "Sapporo's Scenery 100 Years from Now". LandSkip, a start-up company based in Sapporo, took charge of the workshops and offered their support to participants.
The workshops took place in the city centre and 20 citizens took part, ranging from complete beginners to those with some experience. Self-study videos were also provided so they could be reviewed after the workshops had taken place, and for the sake of participants who were unable to attend in person due to coronavirus infection etc.
Workshop 1 (30th July)
In the first workshop, participants were asked to come up with their own concepts of Sapporo 100 years from now and to create a CG snowman.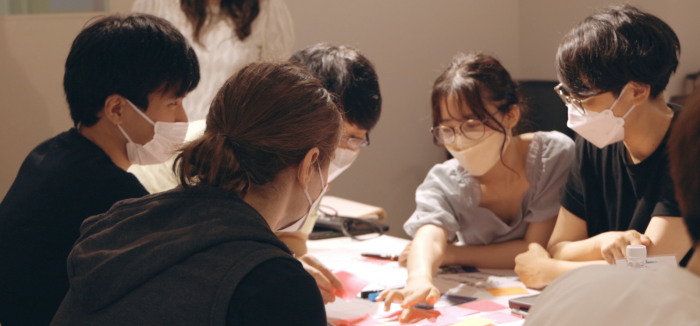 They were firstly divided into four groups to discuss their thoughts on what Sapporo might look like in the future. A variety of interesting theories were brought forward, such as "Buildings are covered by domes and the TV Tower is connected to outer space (hologram)" and "Flying Polaris (tram) runs through the streets".
In addition to the more technological aspects, there were also remarks on Sapporo's rich nature, e.g., "Nature is managed but retains its sense of wildness" and "The symbolical scenery of the Toyohira River, where salmon swim, still remains".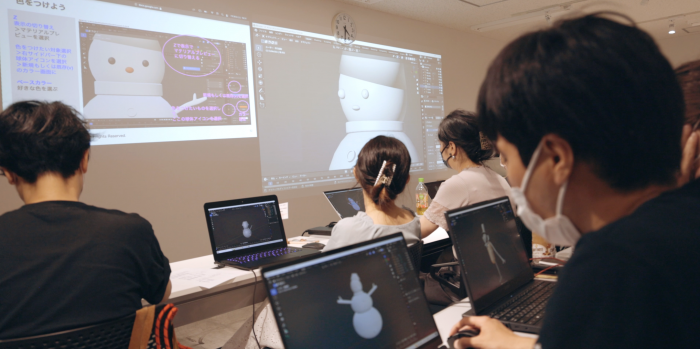 In the second half of the session, the workshop on CG creation began. Participants studied the basics of modelling using the software Blender and helped each other to create CG snowmen.
Workshop 2 (6th August)
In the second workshop, participants started off by presenting their original snowmen - the challenge brought over from the first workshop.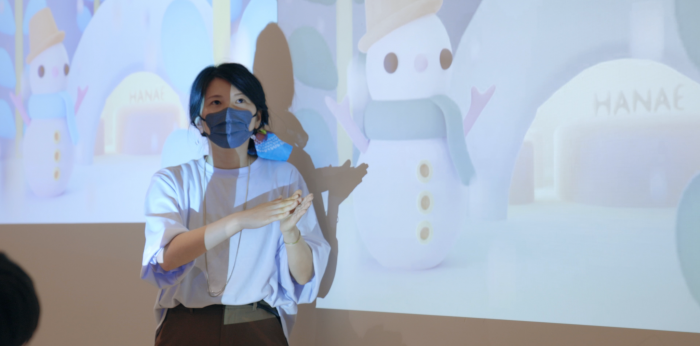 Their work was screened onto a projector and they shared the specifics they had focused on and the difficulties they had encountered, their presentations interspersed with questions and comments from others. The other participants surely learned from and were inspired by each other's outlooks and originality.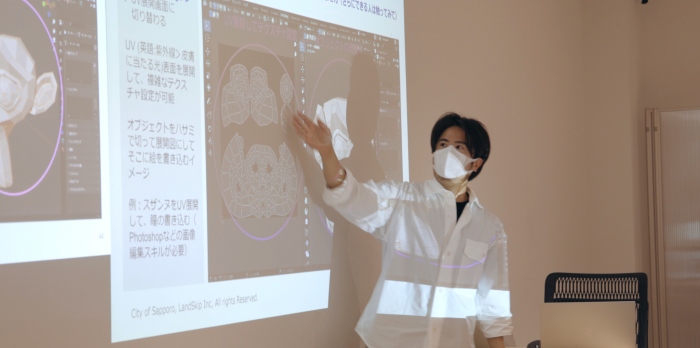 In the hands-on workshop, participants learnt how to mimic textures like metal and glass whilst working on their robots. They were hard at work considering how to form a robot using only spheres, cubes, and cylinders.
Workshop 3 (20th August)
The final workshop was initiated by participants presenting their original robots – again, the challenge brought over from the previous workshop. A mixture of different robots were introduced, some already with backgrounds and settings thought up, and comments like "I want the future Sapporo to continue to love sports. I'd like the robot in charge of sports photography to look something like this" were shared.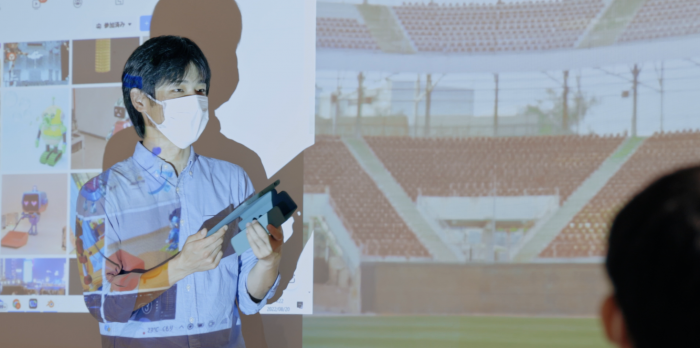 Some participants, already preparing their final project "What I Think Sapporo will be Like 100 Years from Now", also reported on their progress. It seemed as though they were developing their ideas based on the suggestions raised in the first bout of group work, for example, "The future TV Tower, which will also be a space station, will light up with holograms at night".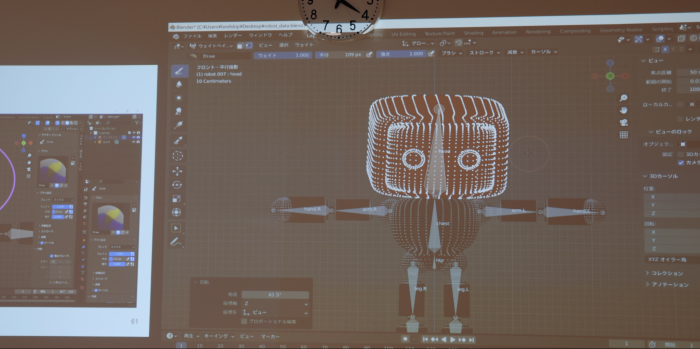 The theme for the second half was how to make the robots move, in which participants learned the necessary techniques for animating their CG motifs. They gradually deepened their understanding of functions like "Keyframes", "Bones", and "Weight Paint", and were able to animate the robots waving hello.
They also realised how much work goes into generating CG in films and other media which they had taken for granted. The participants seemingly gained more respect for creators and were further motivated to produce their own work.
Feature Presentation (19th November)
After the three workshops, participants had a production period of one month to create their own CG designs with the theme "What I Think Sapporo will be Like 100 Years from Now".
The submitted designs were integrated into a landscape feature video produced by LandSkip Inc. based on the ideas that participants came up with in the first workshop. The completed CG feature is entitled SAPPORO 2122: Sapporo's Scenery 100 Years from Now.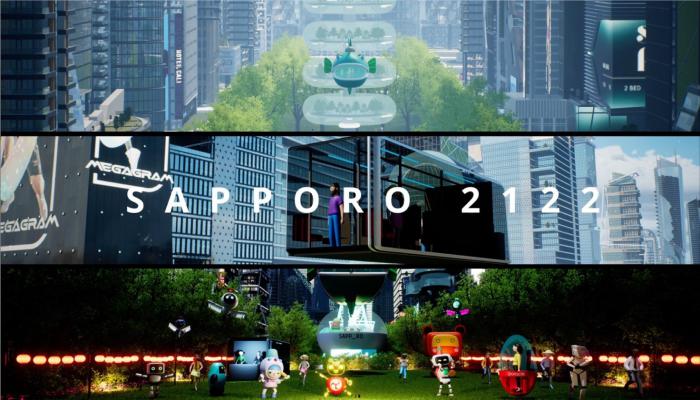 On the 19th November 2022, the feature was presented for the first time. A large number of people gathered to see the stunning images emerging on the AUMIRU screen - one of the largest screens in Hokkaido.
Visitors watched fixedly as a countdown appeared on screen and SAPPORO 2122: Sapporo's Scenery 100 Years from Now was set in motion.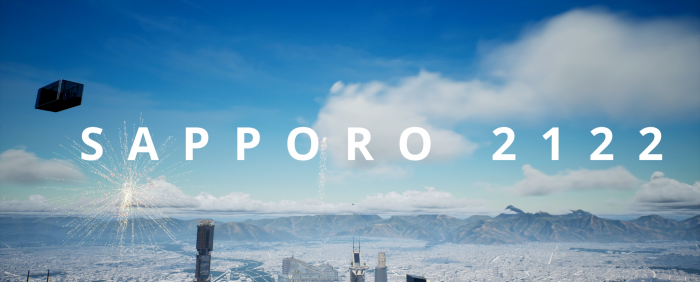 The screen displays a view of the future Sapporo, a digital yet green city with a distinct fusion of urban and natural. Under a blue sky dotted with flying cars and trains, there are towers with green spaces and rooftop farms, and in Odori Park, people and robots walk in tandem. Tanukikoji Shopping Arcade is bustling with futuristic stores and informative robots assist tourists.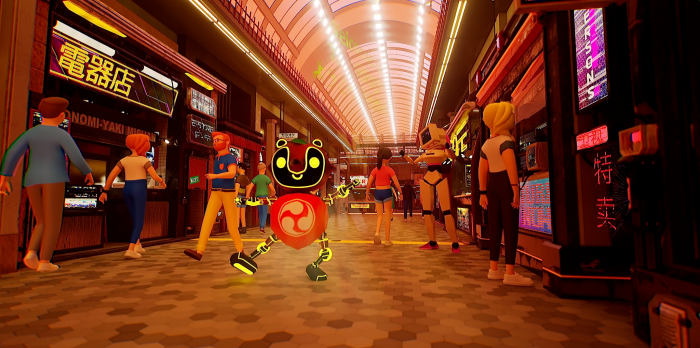 At night, the floating Clock Tower in the sky lights up. The characters dance heartily, surrounded by digital fireworks, at a festival celebrating the 200th anniversary of Sapporo's city administration.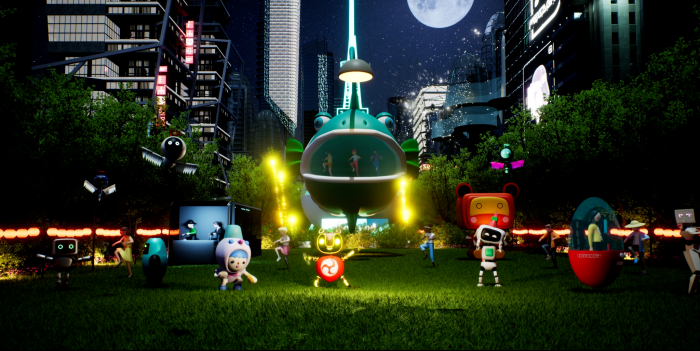 This future Sapporo was created by all of the participants in cooperation, who smiled, moved, as they saw their names in the end credits.
At the presentation, we interviewed the youngest member on behalf of all the participants. Shun Tanabe, a second-year middle school student (14 years old), said that he was moved to see the penguin robot guide he created in action, but also stated, "I feel a little frustrated because I wanted to work harder on creating the robot. I'd like to continue working hard at making computer graphics so that I can improve my skills," he said, expressing a desire for further creativity.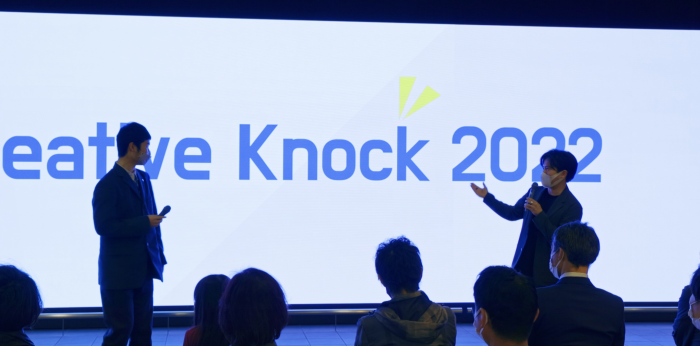 After the interview, SAPPORO 2122: Sapporo's Scenery 100 Years from Now was played once more, with LandSkip CEO Shimomura providing commentary on the settings and the designs in the video. For details of the creations formed by each participant, please refer to ourPDF document.(PDF:1,601KB)
A video of the presentation is also available:
Chi-Ka-Ho Screening
Passersby can also view the feature on large-scale screens underground at the following locations.
Sapporo Ekimae-dori Underground Walkway Chi-Ka-Ho:
Schedule: from 18th Feb 2023 (end date TBC), every day from 09:00 - 17:00 and 19:00 - 22:00. Broadcast every 50 minutes past the hour with a duration of approx. 3 minutes.
Please note that the feature may not screened at times when other events are taking place at the venue.
Sapporo's Scenery 100 Years from Now: Winter Edition
In conjunction with Sapporo's acclaimed Snow Festival, a new version of the feature entitled Sapporo's Scenery 100 Years from Now: Winter Edition was shown on the AUMIRU screen on the Sapporo Ekimae-dori Underground Walkway.
Basking in Hokkaido's famous powder snow, several adorable snowmen created by participants in the first workshop featured in this CG winter wonderland. AUMIRU displayed the feature from the 1st to the 28th Feb 2023.

The short versions of the two editions (original & winter) can also be found below:
---

Some of the publications on this site are in PDF format. To view them, you will need to have Adobe Acrobat Reader. Please click the graphic link to download Adobe Acrobat Reader.
Copyright © City of Sapporo All rights Reserved.