Update:March 31, 2023
Sapporo Parallel Museum
This collaboration between businesses in the Sapporo Ekimae Street area and the City of Sapporo was part of a project to create a bustling new urban centre and to promote Sapporo (UNESCO Creative City since Nov 2013) to the world as a hub of media arts.
Our everyday life has changed dramatically since the international outbreak of COVID-19 in 2020. With the shift to online culture, information from all over the world has become instantly available and the distance between us has vanished, creating a rich environment where arts and cultural events are now accessible worldwide. These have taken the place of in-person events, fostering new relationships and creating invisible intimacies whilst maintaining distance. At the same time, amidst this flourishing cultural landscape, we've found ourselves mourning the loss of location-specific textures of culture, geography, and celebration.
Faced with the ongoing pandemic, the Sapporo Parallel Museum aims to reaffirm the value of art by looking at the uncertain present from multiple perspectives. Accessible from anywhere in the world, it shows work not only onsite at physical locations around central Sapporo Ekimae Street, but also online, where the pieces are specially dedicated to the virtual space.
Sapporo Ekimae Street stretches both overground and underground. When it snows, the landscape around us often changes overnight, making us feel as if we're witnessing the birth of an entirely new world. The Parallel Museum has created parallel worlds that link to the city's characteristics, experiences that straddle the line between virtual and real, and opportunities to discover new possibilities for the city.
Past Editions
2023 Edition
Exhibition period: 4th Feb (Sat) - 12th Feb (Sun) 2023, 11:30 - 19:30
Physical venues: Akarenga Terrace (5F Terrace Keikaku), Daimaru Sapporo (1F & 6F), Sapporo Ekimae-dori Underground Walkway Chi-Ka-Ho ("Communication square" / Kita 1 Higashi), sitatte sapporo (B1F Step Garden), and Hulic Sapporo (pop-up canvas on construction wall)
Online venue: https://www.parallelmuseum.com/ (external site)
Exhibiting artists: OHASHI Tetsuro, NUMATA Yuka, FUJIKURA Asako, YAMASHITA Takuya, YAMAMOTO Yuki & HAYAMA Tatsuki
In collaboration with: City to City 2021: Play! Project (Artists: OKA Miyuki, Yilin Wang, Mauricio Diaz)
Programme of events:
Parallel Museum Shop produced by NEVER MIND THE BOOKS: limited-time-only booth on the weekends where visitors could purchase zines, pamphlets, handouts, manga, and artist books directly from creators.
Artwork tour "Seeing art with Mr. Shiratori (who cannot see)": tour for participants to view artwork accompanied by Mr. SHIRATORI Kenji, who is blind. Participants took turns guiding Shiratori, who was not searching for any "correct answers," but asking participants to face the work, look at it carefully, and use every word possible to describe it.
Stamp rally: visitors could collect a stamp for each piece of art via their smartphones. Each stamp earned one original postcard, and the first 100 visitors to collect all six stamps received an original tote bag. Approx. 500 people participated in total.
Host organisation: Sapporo Ekimae Street Area Activation Committee
Entrance fee: free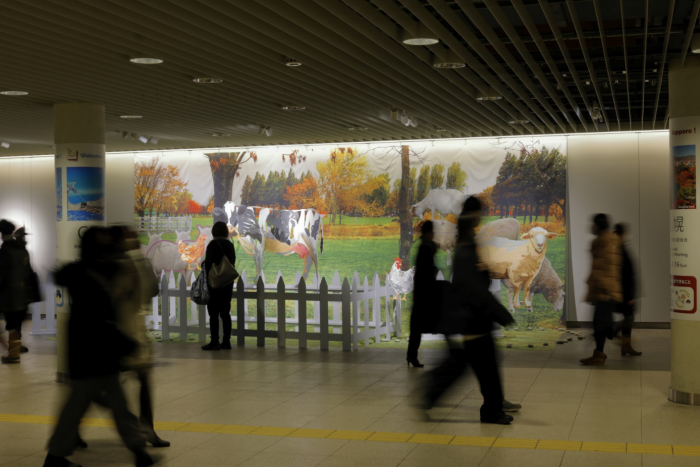 Imaginary farm / NUMATA Yuka (photo: YAMAGISHI Seiji)
2021 Edition: "Opening the Curtain"
Exhbition period: 3rd Dec (Fri) - 12th Dec (Sun) 2021, 11:30 - 19:30
Physical Venues: Hulic Sapporo (pop-up canvas on construction wall), miredo (2F), Sapporo Dai-ichi Building (4F); Hokkaido Building (1F – closed on 5th & 12th Dec); Akarenga Terrace (1F); Nissay Sapporo Building (1F; B1F)
Online Venue: https://www.parallelmuseum.com/2021 (external site)
Exhibiting artists: AKI INOMOTA, LEE Lee Nam, OHASHI Eiji, KANO Shunsuke, TAKEDA Hiroshi, TAKEDA Yusuke, TAMAYAMA Takuro, PARK Hyunjung
In collaboration with: City to City 2020: Human Responsibility Project (Artists: OGURO Junichi, Beáta Kolbašovská)
Host Organisation: Sapporo Ekimae Street Area Activation Committee
Entrance fee: free