Update:November 9, 2018
Sapporo International Communication Plaza Foundation
With a view to creating a comfortable living environment for all citizens regardless of nationality or cultural background, the Sapporo International Communication Plaza Foundation provides non-Japanese residents with support for living in Sapporo, a variety of information and materials and opportunities for cross-cultural exchange with Japanese people.
Sapporo International Communication Plaza Foundation
Sapporo MN Bldg. 3F, Kita 1-jo Nishi 3-chome, Chuo-ku (across from the Sapporo Clock Tower)
Tel: 011-211-3670 Fax: 011-211-3673
http://plaza-sapporo.or.jp/ (Japanese/English)
* A 10-minute walk from JR Sapporo Station; a 3-minute walk from Exit 16 of Odori Subway Station
*Plaza office opening hours: 9:00 – 17:45, Monday through Friday
The Communication Salon is open Monday through Saturday from 9:00 – 17:30.  
Communication Salon TEL: 011-211-3678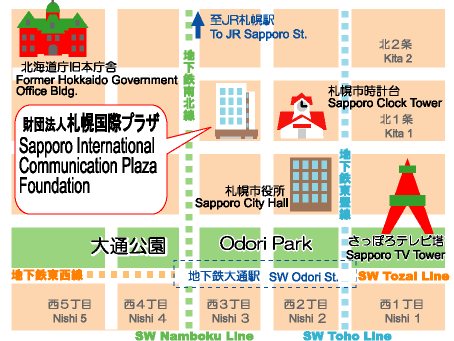 Please feel free to visit!
Communication Salon
This is a salon open to everyone with books, newspapers, and magazines in various languages. You can also access free Wi-Fi or use computers with connection to the internet after visiting the information counter. The information counter also has English speaking staff members and multi-lingual volunteers. In the Japanese Cultural Experience Corner visitors can enjoy Japanese tradition through hands-on activities such as making origami and trying on a traditional woman's bridal kimono and having a commemorative photo taken. Please feel free to drop by anytime to ask about anything from tourism information to necessary information for living in Sapporo. The salon is open from 9:00 to 17:30, Monday through Saturday.
Sapporo Life Information Package
Foreign-language pamphlets offering handy information on living in Sapporo (such as leaflets on disaster measures, sightseeing guidebooks and pamphlets on how to use the subway and how to separate garbage) are packed and distributed (free).
Message Board
A message board is available for cross-cultural information exchange.
Messages from those seeking language exchange lessons, holding sayonara sales (selling usable items before leaving the country), etc. can be posted here.
Acceptance of applications for Youth Hostel membership/membership renewal
Youth Hostel membership procedures can be completed here. Accommodation cannot be reserved.
Consultation/Exchange Services
Free professional consultations for foreign residents
Lawyers from the Legal Service Network for Foreigners in Sapporo and administrative procedure specialists and certified tax accountants from the Hokkaido Certified Public Tax Accountants' Association provide free consultations (e.g., employment, rental contracts, nationality, divorce and inheritance, visa extensions, changes in residence/tax status due to international marriage, etc.). No reservations are required.
Legal consulatations are offered approximately six times a year (consultations can be done in English). Please contact the International Communication Plaza for specific dates.

The Let's Talk program
In this program, participants can enjoy cross-cultural exchange through free conversation in foreign languages. No fees apply, and reservations are not required. A native speaker of the language serves as the facilitator.
English, Chinese, Russian, German, Korean and Japanese sessions are conducted once a week.
Please access the website for the schedules (http://plaza-sapporo.or.jp/citizen_j/lets_talk/).
*Let's Talk Japanese will be held for foreign language speakers with the cooperation of MADO, a Japanese language volunteer group.
*Please be aware that the program does not offer systematic language lessons.
Sapporo Community Interpreters
Sapporo Community Interpreters are dispatched to help with consultations and procedures at schools, daycares, city offices and more. Contact the following for details. TEL 011-211-2105 Email: community@plaza-sapporo.or.jp
Multi-language Mobile Information Services
The Sapporo International Communication Plaza Foundation offers a mobile messaging service that sends updates on events, municipal information, health and welfare, medical, and disaster prevention. Services are available in the four languages listed below, and registration is available at the corresponding URLs. This service is free of charge.
Japanese Classes
Many volunteer groups conduct Japanese classes within Sapporo. For details, please contact the Sapporo International Communication Plaza.